"DAIDO DRYER" developed from our years of experience is demonstrating its superiority in dehumidifying processes of almost every industry. It maintains competitive edges with its superior features including energy conservation design, stable low dew point, closed system to ensure safety in using dangerous gas, compact design employing high-performance four-way valves and fully automated safety operation. We boast of records of supplying over 3000 units domestic and abroad and receive high valuations from users.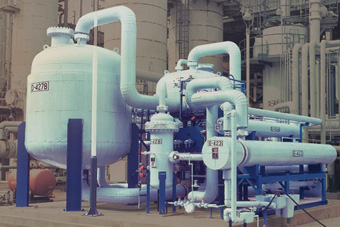 ●BZ series
It is a solid adsorption type dehumidifier boasting of its compact size and high regeneration efficiency and undoubtedly, the most widely-known representative of "DAIDO DRYER." It employs a closed system, which can adsorb and regenerate gas kept under a pressurized condition. It causes no loss of gas and ensures contamination-free operation.
●DHA series
It performs efficient heating, cooling and regeneration with its gas regeneration system combining a built-in heater and heat-transferring fins. It removes moisture and uncracked ammonia from ammonia cracked gas.